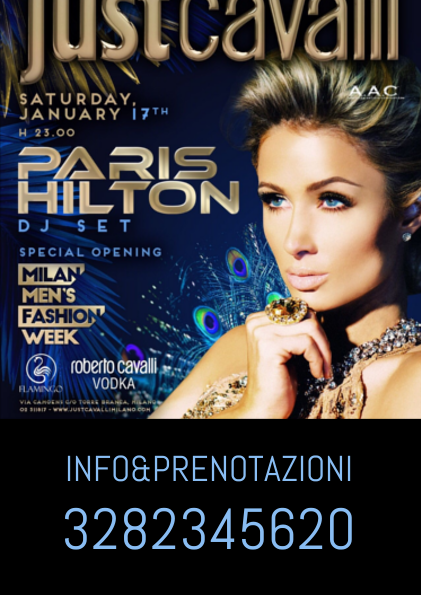 Prezzi Milan Man's Fashion Week:
Paris Hilton Just Cavalli Milano
Ingresso in riduzione 20€ con 1 flute spumante – Intero 30€
Tavoli:
600€ x 5 ingressi 2 bottiglie basiche
1200€ x 10 ingressi
3000€ tavoli centrali
5000€ tavolo dj
Per essere inseriti nella lista NOMINALE di MILANOINDISCOTECA:
scrivere sms (anche whatsapp) al +39 328 2345620 con: Paris Hilton Just + nome e cognome + numero persone

es: in 8 persone scrivere: Paris Hilton Just Francesco Verdi, 8 persone

Si ricorda che è sempre vigente la selezione all'ingresso. Abbigliamento curato e ingresso a coppie è sempre gradito.
In occasione della settimana della moda maschile, il Just Cavalli è lieto di annunciarvi un party d'apertura con un ospite d'eccezione.
Sabato 17 gennaio infatti Just Cavalli Milano annuncia Paris Hilton! La regina del gossip internazionale si esibirà in consolle in un dj set che farà da colonna sonora per gli ospiti per un party unico, che inizierà alle h 22.30.
Obbligo di prenotazione al 3282345620 per i tavoli (min 2 bottiglie), per le cene e per essere inseriti nella guest list di Milanoindiscoteca.
English: JustCavalli is proud to announce PARIS HILTON DJ Set on Saturday 17th for the Milan Man's Fashion Week opening!
Be sure to make your reservation for the most fashionable party +393282345620 or [email protected]
Party will Starts at 10.30 pM. Don't MISS it!
Clicca qui per tutte le info e per prenotare il tuo ingresso: [button style="1″ caption="Informazioni" link="https://www.milanoindiscoteca.it/eventi-milano/sabato-just-cavalli-milano-man-fashion-week-paris-hilton-2015-01-17/"][/button]